After six months of chemotherapy in her Guatemalan hometown, doctors told Debbie Cohen de Mishaan that she would need to go to America for surgery and radiation therapy. The forty-eight-year-old mother of three was diagnosed with breast cancer in February 2017. In September, she began making plans to travel to Houston's MD Anderson Cancer Center. Her parents and a friend would accompany her.
Arriving at Aishel House, Debbie perked up. This was not like the places she had stayed on previous trips to Houston. The impeccable accommodations, the consideration to detail and incidentals provided her with an unexpected level of comfort. "The apartments were beautiful," she says. "Everything we needed was there."
Rabbi Lazer and Rochel Lazaroff take care of patients and their families who come for treatment to any of the twenty-one hospitals in Texas Medical Center: lodging, hot meals, commutes, and other support services relieve families of some stress during their difficult ordeal.
In 1995, the Lazaroffs opened Aishel House with a single apartment that they rented out at a nominal fee. Since then, they have provided over sixty thousand nights of accommodation. Demand for their services is universal, and they host people of all backgrounds. Lazer, a Texas native, is also a chaplain at St. Luke's and Texas Children's hospitals.
Debbie came at the right time. In May, the Lazaroffs had opened the doors of a new thirty-five thousand-square-foot facility, dedicated by artist and philanthropist Barbara Hines. The building contains twenty one-bedroom apartments and three two-bedrooms, each equipped with a full kitchen. The ground floor features offices, a synagogue, a handicapped-accessible mikvah (still under construction), and two additional kitchens.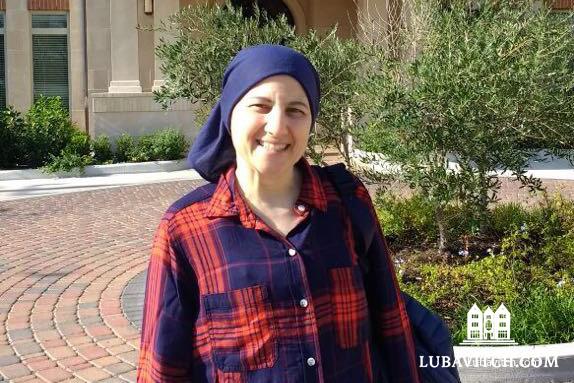 Debbie smiles in front of the Aishel building
There's a lot of cooking going on at Aishel House, where guests have the option of using their private kitchens or enjoying dinners prepared by volunteers. Hot, homemade soup is always on hand. And Shabbat dinners are served on fine china, with flower arrangements for the tables and lobby provided by a local community member.
The accommodations could easily be mistaken for a boutique hotel, which is precisely what the Lazaroffs had in mind. "We want people to feel loved, taken care of," says the rabbi, noting that most guests visit during periods of extraordinary personal strain.
"Before I left," says Debbie, "I told them, 'I need to come back here with my family.'"
Supporting People
Patients who travel for treatment are particularly vulnerable. Staying in an unfamiliar city, often for weeks or months at a time, they find themselves separated from their homes and communities at the time when they need those resources most. That's why the Lazaroffs started Aishel House— "to be supportive of people." Guests are treated as family. Rochel will get up at 6:00 A.M. to say goodbye to patients before they leave for morning appointments, and she also likes to surprise them when they come back late.
Arthur Kupperman came to MD Anderson from his home in Florida to be treated for non-Hodgkin lymphoma last November. He stayed at Aishel House for ten days before checking into the hospital for two months of in-patient treatment. He says that the convivial atmosphere at the Shabbat dinners he attended made for a pleasant contrast to the impersonal environment of a hotel.
For lone caregivers, isolation can compound feelings of helplessness, as Arthur's wife, Bonnie, learned during the couple's earlier trips to Houston. "When you're on your own, you flounder," she says. Sometimes, things don't go well, and the patient needs help. "If you're in an apartment by yourself, you have to stand in the middle of the street and yell." Knowing that the Lazaroffs were downstairs, ready to help get her husband to the right doctor was "a huge comfort."
Bonnie, a retired newspaper reporter who has been involved in Conservative and Reform synagogues her whole life, hesitated when her husband first suggested Aishel House. She didn't think she would feel comfortable with Chabad. "The welcoming, the openness, has just been incredible," she says. "Tikkun olam— they [the Lazaroffs] exemplify the whole thing."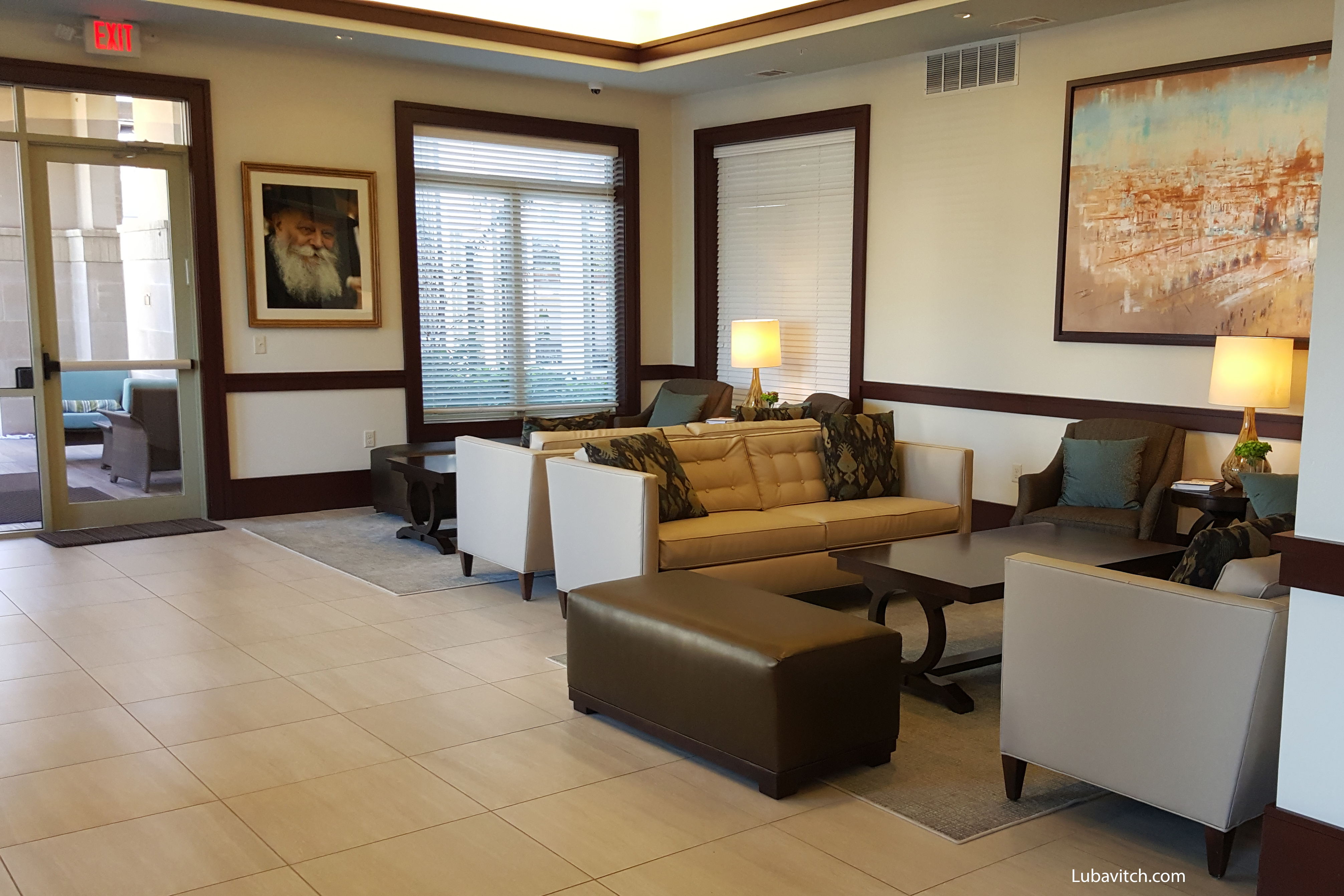 Inside, the building is modern and spacious
Mitzvah Matchmakers
Much of the Lazaroffs' work is made possible by a dedicated corps of volunteers who cook meals, assemble welcome packets, and shuttle patients to and from the hospitals, airport, and grocery stores. Retirees, students, and young professionals are drawn to Aishel House as a place where they can make a difference in people's lives.
"We're mitzvah matchmakers," says Rochel, who coordinates the volunteers. "People come, and they pick what works for them. After Hurricane Harvey, people just showed up at our door to volunteer. They knew something would be happening here, and it was."
Josh Tillis and Danya Skolkin were to be married and had planned to host a dinner for their out-of-town wedding guests at Aishel House, where Danya's mother was a longtime volunteer. But when the wedding was postponed because of the hurricane, the Lazaroffs used the food they had ordered for the wedding dinner to feed displaced Houstonians instead. The bride and groom pitched in to help cook. Their story was later featured in a series of articles about weddings written for The New York Times.
The Heart of the Matter
People who spend their lives caring for patients battling terminal illness are sometimes advised to detach emotionally, to better cope with the stress. But the Lazaroffs have been doing this for twenty-five years, and they've never detached. "We still cry, Lazer says."
Rabbi Lazer Lazaroff speaks at a fundraising event
Their work may be emotionally taxing, but it's part of the job description. "The Lubavitcher Rebbe partook of everyone's joy and everyone's pain. We're his emissaries, and we have to do the same in our little corner of the world."
When treatment is successful, as it was for Debbie, the Lazaroffs celebrate. After her first trip, Debbie returned to Houston for another seven weeks of radiation therapy, bringing her children and husband with her as promised. Her children played ball with the Lazaroff children, while Debbie studied Torah with Rochel.
She says that the experience felt so good, she almost forgot why she was there. "We came there for a long treatment and we ended up with a short vacation."