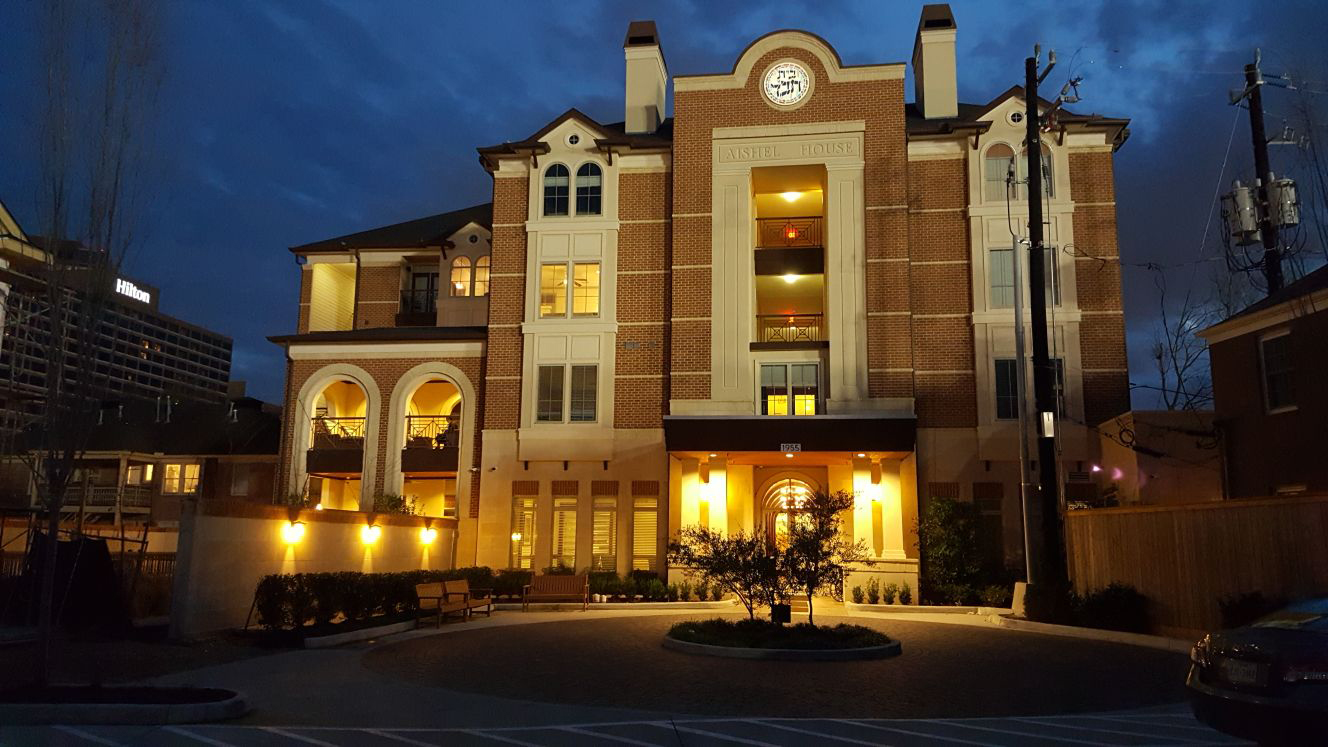 Aishel House provides the following:
Our building is a hub for all of our patient support activities, and we offer 23 apartments for those seeking a place to stay outside of the hospital. Our residents, volunteers, and staff together comprise a loving and caring community.
23 Fully furnished comfortable one bedroom Apartments with 2 Full-Size beds (accommodating up to 4 people) and full private bathroom.
Linens, towels, and an alarm clock in each bedroom
Cable television and wireless internet access
Every apartment has a living/dining room with a pull out couch, full kitchen, balcony, and washer/dryer.
Patient and Caretaker lounge.
Synagogue on premises and Shabbos elevator.
Kosher apartments available.
Fee:
Our operational cost for each apartment is $108/night. We ask residents to contribute what they can toward that amount. A subsidized rate of $50/room/night is available. Applications for a furtherly reduced rate may be completed for consideration for those who are unable to pay the requested minimum rate.
Food:
All guests are welcome to use the kitchens in their apartments freely.
In all public spaces: only food from the Aishel House Kitchen is permitted. Some afternoons and evenings volunteers may provide a to-go lunch or dinner for you. There is coffee and a light snack in the lobby in the morning.
Transportation:
We are in walking distance to most institutions in the Medical Center. There is a taxi stand at the corner of Dryden and Travis (3-minute walk from Aishel House).
There is one parking space available for each apartment at Aishel House.
The nearest METROrail stop at Dryden Rd. is 1 block from Aishel House.
Accessibility
There is an elevator servicing the apartments in Aishel House.
For Shabbos and Yom Tov, the elevator runs in Shabbos mode.
Housekeeping
Our standard housekeeping service is to lightly clean and change the linens once a week. If you would like housekeeping to tidy up, or come more often, contact the office for availability. Housekeeping is available on a daily, biweekly, and weekly schedule.
Safety and Security:
No weapons of any kind are allowed in the Aishel House building or campus.
The possession and/or use of illegal drugs, or drunken and inappropriate behavior anywhere on the Aishel House campus will result in immediate removal from Aishel House.
No soliciting is permitted on the campus of Aishel House.
To ensure guests' safety, there are video cameras located throughout the campus and building in the common areas.
Privacy:
To respect the privacy of others at Aishel House, No photography or video permitted on Aishel House premises without written permission of the Facility Manager.
Smoking:
Smoking is not permitted anywhere on Aishel House property.
Length of Stay:
Guests may stay up to 90 days as long as the patient is actively receiving treatment on an inpatient or outpatient basis. Families that need to extend their stay can apply for an extension beyond 90 days with the Director. Extensions are considered on a case-by-case basis.
Activities:
You can relax with one of our evening activities. Visit with a friend in the garden, play a game of chess, attend a study session, or participate in a craft night. We also have a reading library from which you can borrow.
Health of Aishel House:
Maintaining a healthy environment for all our guests, volunteers, and staff is vital to our mission. Please notify a staff member if you are experiencing a medical condition that may be contagious to others in the house (symptoms may include fever, vomiting, diarrhea, etc.). We will assess the situation and determine the best course to maintain a healthy environment.
Guests with Minor Children:
All children 14 years of age or younger must be accompanied by their parent or guardian at all times in Aishel House and throughout the Aishel House campus. There is a small playroom, a play area, and swing set for kids to enjoy.
Pets:
Pets are not allowed.